Version 4.11.0 of Coupon Affiliates for WooCommerce is now available.
This update includes highly requested support for "multi-currency" stores, and a few other small changes and fixes.
---
(Free) Multi-Currency Support
A new feature has been added to support most (if not all) "multi-currency" WooCommerce plugins.
You can now enable multi currency support and set conversion rates for your store currencies.
This will then automatically convert the order totals, total stats, and commission earned, in the affiliate dashboard to your base store currency, no matter which currency each of the orders were made in.
Here's an example of the settings.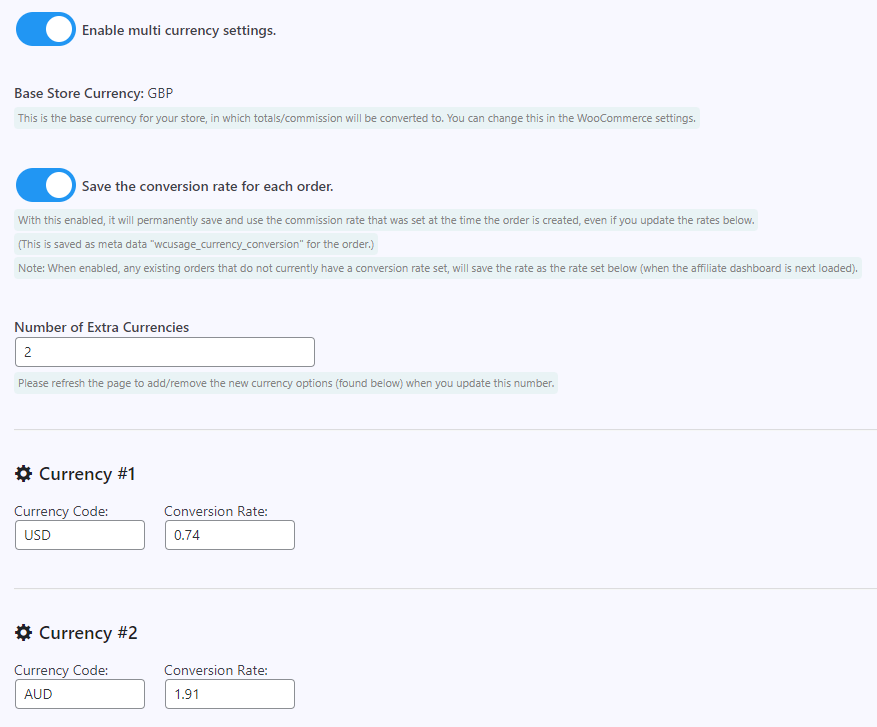 To get started, simply enable multi-currency settings under the "General" tab of the plugin settings page. A new tab will the appear labeled "currencies" to customise your currencies and conversion rates.
---
(PRO) "New Payout Request" Email Notifications
A new option has been added to enable "new payout request" emails for admins, to notify when a payout request has been made.
This email can be customised, just like other email notifications, under the "Notifications" settings tab.
---
Other Changes & Fixes
Tweak: Added a new "refresh all data" button in debug settings.
Fix (PRO): Fixed issue with "Custom Tabs" settings not saving properly with new ajax saving enabled.
Fix: Fixed issue/conflict with WooCommerce subscription renewals not working properly on some sites.
Share this post: