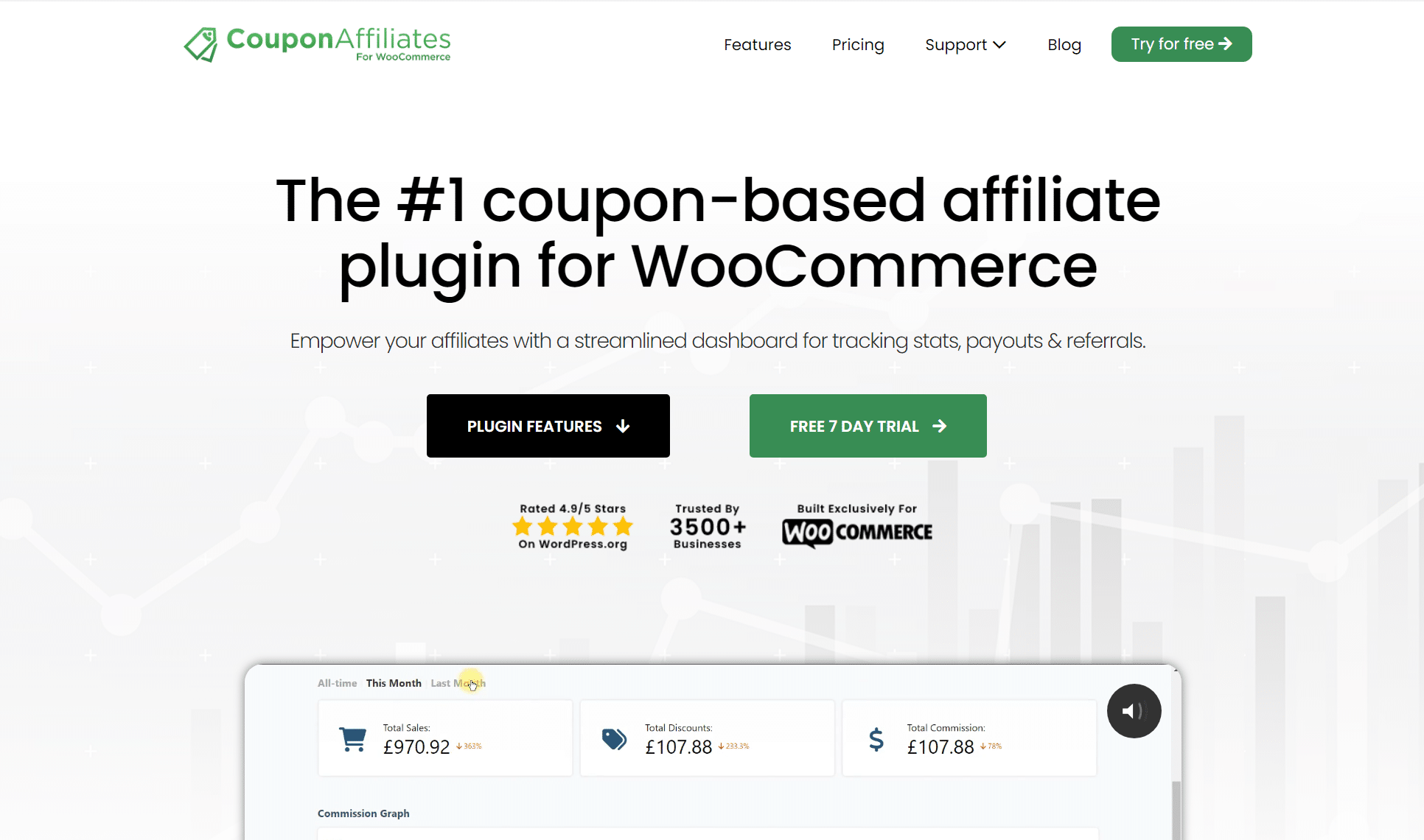 The #1 coupon-based affiliate plugin for WooCommerce
Empower your affiliates with a streamlined dashboard for tracking stats, payouts & referrals.
Perfect for all your affiliate marketing needs
Whether you are running a complex affiliate program, working with influencers, or just need a simple "refer a friend" system, the Coupon Affiliates plugin is perfect for any type of affiliate marketing program.
Work closely with affiliates, offering them access to an advanced dashboard to keep track of their statistics, commission earnings, referral links, and payouts.

Partner with influencers to launch powerful campaigns, and offer them all the tools they need to promote your products to their audience with their own coupon.
Alternatively, launch a more simplistic referral program, rewarding your customers commission or store credit for referring their friends.
"Affiliate Coupon Management Couldn't Be Easier - You don't need to hire an employee to manage your affiliates. With the Coupon Affiliates plugin, you can automate registrations, administer coupons, and handle payouts. That frees up your time to work on your products and services, while your affiliates generate more revenue for you." - WP Mayor
The complete solution for WooCommerce affiliates
Coupon Affiliates offers everything you need to easily run a powerful coupon-based affiliate program for your WooCommerce website. Here's an overview of some of the key features Coupon Affiliates has to offer.
Give your affiliates access to their own user-friendly affiliate dashboard for their coupons.
The dashboard offers a variety of useful features for your affiliates, including detailed usage statistics, accurate commission calculations, latest referral orders, monthly statistics summary, payouts management, referral URL generator, click history, campaigns, creatives, and more!
Your affiliate users can easily track and submit payout requests on their affiliate dashboard.
You will then receive an email notification, linking you directly to the admin page, where you can one-click pay, manage, and keep track of all your payouts in one place.
You can also set payment thresholds, and a number of days before commission is earned (after order completion).
Referral URLs & Click Tracking.
Affiliates can generate a referral URL in their affiliate dashboard. They can then share this with potential customers. If someone clicks on their link, the coupon code will be automatically applied, and the referral click will be tracked on their dashboard.
They can even setup direct link tracking, create referral campaigns, short URLs, QR codes, and share their links on social media in one click.
Easily display an affiliate registration form on a page, via a shortcode, which users can fill out to join your affiliate program.
When the form is submitted, you will be notified, and can easily manage affiliate applications in the backend. Simply click accept or decline, and everything will be setup for them automatically, with details sent to their email. You can even set it to accept registrations automatically if preferred for a fully automated registration process.
Generate admin reports and view analytics data for all your affiliate coupons in one place.
You can select a certain date range, compare date ranges, and show affiliates based on certain criteria.
You can also send detailed email reports to affiliates on a scheduled basis, customise email notifications, and more!
Are you looking to create a multi-level affiliate program? We've got you covered!
With the Multi-Level Affiliates module, your existing affiliates can invite new users to register as an affiliate on your website. As the parent affiliate, they will then earn a percentage of extra commission for all sales that their sub-affiliates refer to you.
Click here
 to learn more.
The Coupon Affiliates plugin is super easy to setup and manage, with plenty of customisation options available to make everything work exactly how you need it.
Easily manage all your payouts, registrations, affiliates, coupon codes, and more, all in your WordPress admin.
PRO modules can be enabled in one click, edit the settings, and you're good to go! No need to install extra plugins.
Coupon Affiliates is trusted by 4500+ businesses
to power their affiliate marketing program!
Can also be integrated with some other eCommerce plugins including...
*These integrations will still require the use of WooCommerce, along with their available "WooCommerce integration" addons.
Start Making More Money Today With Our
Powerful Affiliate Plugin...
Risk-Free!
7 Day Trial
14 Day Money Back Guarantee
No Extra Fees
After your trial just $9.99 per month, cancel any time!
I'm Elliot Sowersby, a WordPress developer from Yorkshire, United Kingdom. I have almost 14 years of experience in website development and WordPress, and have been a full-time developer since 2016. Since then, I have helped businesses from all around the world with designing, developing and maintaining their WordPress websites.
I have developed a variety of WordPress plugins over the years, including Coupon Affiliates, Simple Cloudflare Turnstile, and reCAPTCHA for WooCommerce.
I'm also the founder of RelyWP, which provides WordPress management services.
You can follow me on Twitter at @ElliotSowersby