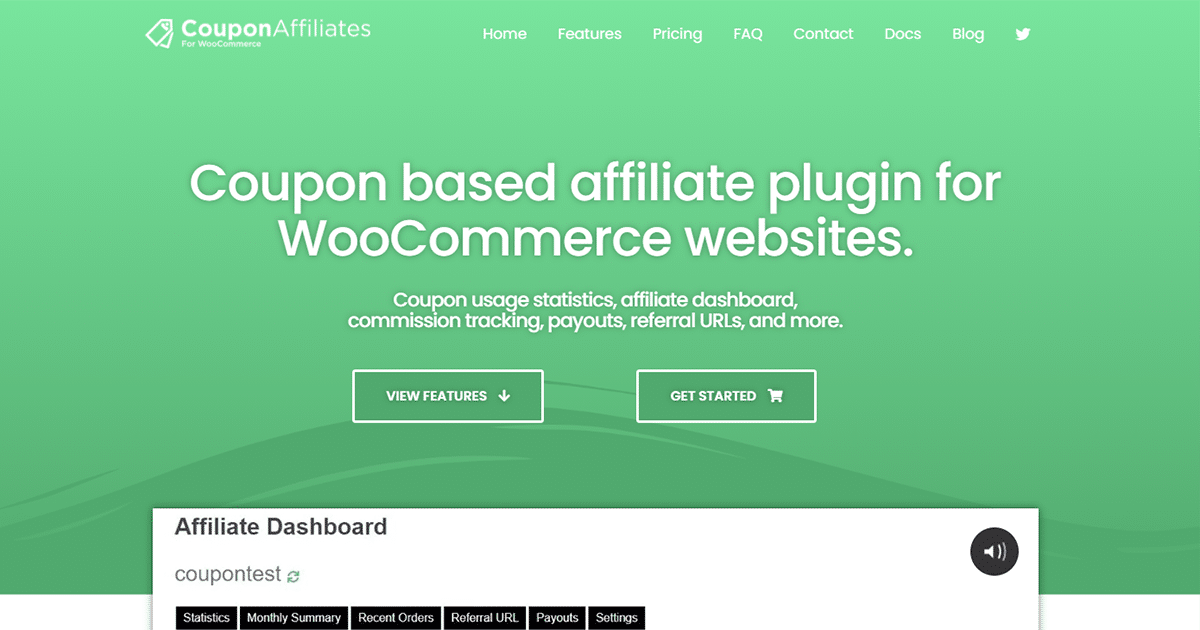 Coupon based affiliate plugin
for WooCommerce.
Easily setup an affiliate marketing solution that will help you grow your revenue.

Your affiliates will love their new user-friendly dashboard to view coupon usage statistics,
track their commission, request payouts, generate referral URLs, and more.
Coupon Affiliate Dashboard.
Give your affiliates access to their own affiliate dashboard for their coupons, which offers a variety of features including:
Admin Reports & Analytics.
Generate admin reports and view analytics data for all your affiliate coupons in one place.
Customise/filter your reports with a variety of options:
Show analytics between a certain date range.
Only show coupons assigned to affiliates
Only show when sales more/less than a certain amount.
Compare stats with another date range.
Show coupons where sales increased/decreased by a certain amount with the compared date.
Affiliate Registration Form.
Display an affiliate registration form on your website frontend, and easily manage affiliate applications in the backend.
All features included in Coupon Affiliates:
Link an affiliate user to a coupon, and allow them to view all their coupon stats and affiliate dashboard directly on a page.
Affiliate registration form features. Upon approval, the affiliate user & their coupon code are both created automatically.
Automatic or Manual Approvals
When users register as an affiliate, you can either manually approve each request, or set it to automatically accept them.
Display a list of products purchased (and quantity) within each order in the orders list, and in the monthly summary (pro).
Automatic Refund Handling
If you fully or partially refund an order that is linked to an affiliate, the commission will be deducted from the affiliate automatically.
Enable a button to export an excel file of the 'monthly summary' and 'recent orders' tables for the coupon.
Orders Affiliate
Info Sections
An "Affiliate Info" column will be added to the WooCommerce orders list, and a meta box widget in single orders.
All statistics/data on your affiliate dashboard are updated automatically in real-time, whenever there are any types of changes.
With Coupon Affiliates, there are no usage limits on anything at all. Create unlimited affiliates, coupons and referrals.
internationalized &


Translations
Enter your own custom translations in the plugin settings. Also includes localization support for plugins such as WPML or Loco Translate.
Coupon Marketing Campaigns​
You can use this plugin to manage and keep track of your your coupon marketing campaigns, to view coupon usage stats, sales, etc.
If you need any assistance with the plugin, have any questions, or even a suggestion, we are always happy to help you out.
Coupon Affiliates is trusted by 1000+ businesses and website owners.
"This plugin solved our problems with a super simple solution based on data that WooCommerce already collects. In addition, developer support is great. I recommend!"
"Amazing plugin and support. Does exactly what it's supposed to do. Creating an ambassador program based on coupons is a breeze AND the developer is super responsive and friendly."
"The coupon affiliate plugin handles all of the heavy lifting for us. This is an excellent plugin and I would recommend it to everyone looking for an affiliate tool."
Start making more money today, Risk-Free!
Purchase PRO completely risk-free with our 14 day 100% money-back guarantee.
1 SITE
3 SITES
10 SITES
25 SITES
ONE TIME PAYMENT
(15 REMAINING)

Prices shown above in USD and exclude applicable taxes. PRO features, updates and support require a valid and active license/subscription.
You may cancel or upgrade at any time. Multisite networks require a license key per site on the network. All purchases are subject to our Terms and Privacy Policy.
Frequently Asked Questions
Will this work with my existing coupons and orders?
Yes, once you install the plugin it will look back at the full order history for each coupon, even those created before the installation, and display the stats for these on the coupon affiliate dashboard too.
How can I pay my affiliates?
Currently you need to pay your affiliates manually, but can manage commission payout requests, and keep track of unpaid / pending / paid commission, in the plugin admin area.

In the future, we plan to implement a one-click payouts feature to the plugin (maybe even automatic), to make it easier for you to pay your affiliates.
How do the referral URLs work?
A referral URL is automatically generated for the affiliate, in the affiliate coupon dashboard. This link can then be shared by the affiliate. Anyone that visits the website using that link, will have the coupon code automatically applied to their account on checkout. Clicks are also tracked, and any sales made via the coupon are tracked as conversions.
How do the email notifications work?
Currently, email notifications can be enabled, to send the affiliate assigned to a coupon an email whenever their coupon code is used, and they receive pending commission for that sale. The email message and subject can however be customised to suite your needs.
More email notification options will be added in the future for other events.
What happens when I assign a user to a coupon?
When you assign a user to a coupon, this will:
Make the unique "dashboard URL" for that coupon private to that user.
Give them access to the "payouts" tab on the dashboard, to enter their payment details, and request/manage payouts.
Enable them to receive email notifications whenever the coupon code is used, notifying them of the sale, and pending commission.
Allow them to view the page with the shortcode "[couponaffiliates-user]" to automatically show the affiliate dashboard for the coupon(s) they're assigned to, without needing the unique link.
Can I use this plugin for coupon marketing campaigns instead?
Yes, you can use this plugin to manage your coupon marketing campaigns. Simply create a new coupon, and visit the coupon dashboard page, to view usage statistics, recent orders, monthly summary, etc, allowing you to keep track of your campaigns performance and profits made. You can even setup the email notifications to notify you whenever the coupon is used.
What kind of coupon usage statistics are shown?
On the coupon affiliate dashboard, you (or the affiliate) will be able to see a variety of statistics including total uses, discount type, orders total, amount saved, commission earned, and more.
You will also be able to see a recent order table (with general info such as date, order total, discount, products, commission etc), and monthly orders / commission summary table for the past 12 months.
Do you plan to add more features in the future?
Yes! New features are added frequently, most of which are based on feedback. So if you have any suggestions, please get in touch!
What's the difference between Yearly and Lifetime plan?
With the yearly plan, you'll get the Pro plugin features, future updates and support for 1 year, and need to renew each year to keep these.
With the 'lifetime' plan you get the Pro plugin features, and all future updates forever. The lifetime plan is limited however, and will be removed once all slots are taken.
Do you offer support if I need help?
Yes! Top-notch customer support is key for a quality product, so we'll do our very best to resolve any issues you encounter via our support page.
Do you offer a refund guarantee?
We firmly believe in our product, but we understand that it cannot work perfectly for everyone all of the time.

If within the first 14 days of the original purchase of the plugin you would like to cancel your Pro version and request a refund, please get in touch and we'll get that sorted for you.
Have a question? Get in touch!
Latest Plugin Updates (Blog Posts)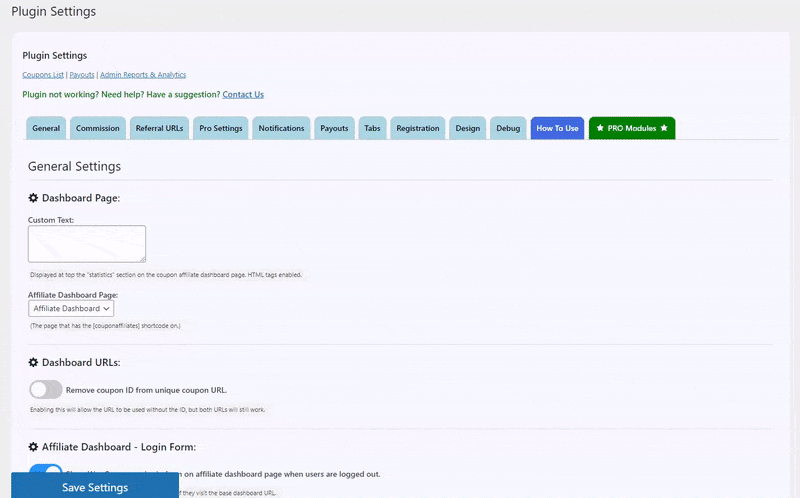 Plugin Update
Version 4.7.4 of Coupon Affiliates for WooCommerce is now available. This update includes a brand new "custom tabs" feature for PRO, along with a few …
Plugin Update
Version 4.7.3 of Coupon Affiliates for WooCommerce is now available. This update includes quite a few small updates, changes and tweaks, with the main update …
About The Developer
I'm Elliot Sowersby, a WordPress developer and digital consultant from Yorkshire, United Kingdom. I have over 11 years development experience, and have been a full time WordPress consultant since 2016. Since then, I have helped businesses from all around the world with designing, developing and maintaining their WordPress websites.
You can learn more about me and my work on my website at
www.elliotvs.co.uk
I'm also the founder of
RelyWP
, which provides 
WordPress management services
.
On the side, I also like to work on my own custom development projects and WordPress plugins. 'Coupon Affiliates' was one of the first plugins I started developing over 4 years ago (formally 'Coupon Usage'), since I couldn't find an existing plugin that met my specific requirements. Over time, I worked on adding a variety of new useful features to the plugin, and eventually released the Pro version in 2019.