Version 4.11.1 of Coupon Affiliates for WooCommerce is now available.
This small update includes new options to set custom tax adjustments, along with a few other small changes and fixes.
---
Custom Tax Adjustments
A new "Custom Tax Adjustment" option has been added to the "General" settings (under "Tax Settings") which lets you deduct a custom percentage from the order subtotal, before calculating the commission.
You can also set this to display the "total" and "subtotal" for orders on the affiliate dashboard, as the adjustment amount.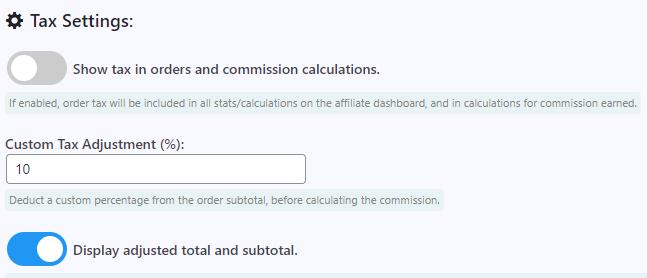 ---
"Telegram" Social Sharing Button
"Telegram" has been added as one of the options available for referral URL social sharing buttons.
---
Other Fixes & Changes
Fixed social sharing icons not always generating correct link on initial page load.
Fixed the admin "Affiliate Info" column in orders list not always showing the coupon/affiliate info for lifetime referrals.
Fixed the admin "Affiliate Info" column in orders list not showing correct "commission" value in the tooltip for multi-currency orders.
Dev: Added PHPDoc comments to more functions and classes for easier understanding, and "function_exists" checks to more functions (more will be added in future updates).
(Version 4.11.0.2 Patch) Small code security improvement/tweak.
Share this post: