Version 4.14.2 of Coupon Affiliates for WooCommerce is now available!
This update includes some improvements to the "affiliate registration" system, as well as a few other tweaks and fixes.
---
Generate Coupon Code Automatically
A new option has been added to disable the "preferred coupon code" field on the affiliate registration form, and instead generate a coupon name automatically.
When enabled, you can customise the format of the coupon code that will be generated, with custom text and merge tags.
Take a look at the settings here: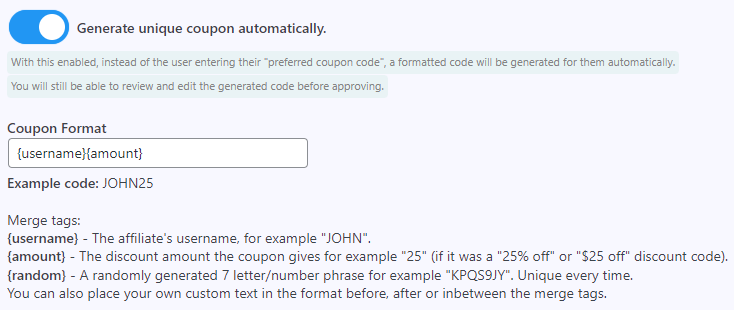 ---
Manual Admin Registrations
A new "Create New Registration" button is available on the admin "registrations" page, to manually create/submit an affiliate registration for a user yourself, easily in the admin area.
---
Checkout Page: Join Affiliate Program
A new option has been added to show a "join our affiliate program" checkbox on the store checkout when creating an order, for non-affiliate users.
This will only show if the user does not already have an affiliate coupon assigned to them. They must also be logged in, or have the "Create an account?" checkbox checked for it to show.
Here's a look at the settings:
---
Admin Users List: "Affiliate Coupons" column
Added a new "Affiliate Coupons" column to the WordPress users list.
This will show all the coupons assigned to the user, with a tooltip showing unpaid commission, dashboard link, edit link, and a link to unassign/remove the users from the coupon.
---
Other Improvements
Added a "Affiliate Users" admin menu item under "Coupon Affiliates", if registrations is enabled with the "Coupon Affiliates" user role.
Added new option to set custom text for the "Submit Application" button on the affiliate registration form.
Added new option to only show tax calculations on statements for users with a tax/VAT number.
(FREE) The option to show the combined totals for all orders within the selected date range is now available in the free version.
---
Other Tweaks & Fixes
Tweak: Added a check to not allow affiliate registrations to be accepted if coupon already exists.
Tweak: (FREE) Reports can now be generated for the past 1 month, up from 4 weeks, in the free version.
Fix: Fixed some possible issues with partial refunds in certain cases.
Fix: Fixed possible issue for sites using old WooCommerce version (3.7 or under), when a coupon is used when creating a new order.
Fix: Fixed issue occurring on some sites with unpaid commission not updating after initially installing, when payouts features enabled by default.
---
Version 4.14.1 changes (17th November 2021):
Improvement: Added option to set "Custom Email Header Image / Logo" for the email reports, to replace the default header image that is set in WooCommerce settings.
Improvement: Changed the "Report Header Text" and "Report Footer Text" to TinyMCE editor for better customisation options.
Improvement: Added option to either center align, or left align the email/PDF reports stats, in the reports customisation settings.
Tweak: Slightly changed/improved code for creating a new affiliate registration submission.
Fix: Fixed the "Commission" message on affiliate dashboard statistics tab, in some cases showing wrong currency symbol when set to "per product" commission.
Fix: Tweaked the registration form labels to be capitalized when translated.
Fix: Fixed an issue with a few of the plugin settings not being able to save since 4.14.0
Fix: Fixed issue with HTML code not working in admin settings textarea fields.
Share this post: