Version 4.7.1 of Coupon Affiliates for WooCommerce is now available.
This update includes a small new feature (Affiliate Landing Pages), along with a few other small changes and tweaks.
---
Affiliate Landing Pages
(PRO) You can now link a landing page to an affiliate coupon.
This page will then work the same was as a referral URL. If someone visits the landing page, it will create the referral cookie and automatically add the coupon when the user adds items to cart.
With this feature enabled, a new "landing" pages metabox will be displayed on pages: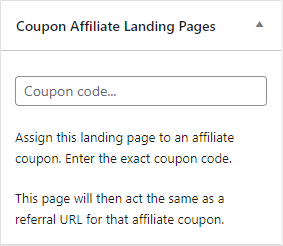 Simply enter the coupon code here, then this landing page will be linked to that affiliate coupon.
How to enable:
To get started, you first need to enable "Affiliate Landing Pages" in the "Pro Addons" section. Then you'll be able to link landing pages to affiliate coupons.

---
Lifetime Commission: Custom Expiry Per Coupon
A new option has been added to set the lifetime commission "expiry" days on a per-coupon basis. If entered, this will overwrite the default amount set in the plugin settings.
---
Other Tweaks
Tweaked referral URL cookie code to set cookie on the site globally.
Added password visibility toggle on affiliate registration form.
---
Other Fixes
Fixed issue with "New Coupon Usage" email message sometimes showing default message, even when it's been edited.
Fixed localisation issue with WPML plugin when ajax loading enabled (for content loaded by ajax).
Fixed 2 translations not working properly in localisation.
Share this post: