Version 4 is here! Along with a bunch of new features, we have also launched a brand new website for the plugin, and changed the plugin name to better reflect the features offered.
---
New Website
I'm pleased to announce the launch of a brand new website dedicated to the Coupon Affiliates plugin. With it now growing as a strong competitor in the WooCommerce 'affiliate' plugin marketplace, it felt like a good time for the plugin to have it's own website, dedicated to showing off the features of the Pro version of the plugin. It also allows direct purchases of the Pro version, without requiring the free plugin to be installed first.
---
New Branding / Name
With the launch of version 4, it became apparent that the plugin was now more than just a 'coupon usage' statistics plugin.
Although the plugin can still be used in the same was it was before, it is certainly moving in a bigger direction, and now offers more functionality focused around building a coupon based 'affiliate' program for WooCommerce.
I have therefore decided to change the name of the plugin from 'WooCommerce Coupon Usage', to a more suitable name, 'Coupon Affiliates for WooCommerce', and implemented some design/branding changes for the plugin as a result.
The new plugin name also makes it much more clear on what the plugin does, as the old name was sometimes a little unclear for some users.
---
Commission Payout Requests & Tracking
Version 4 of the Pro plugin includes 'Commission Payout Requests & Tracking' features.
Affiliates can track their commission earned via their coupon, request payouts, and view their payout history.
Website administrators can view requested commission payouts from affiliates in the admin area, and track/manage pending, complete and cancelled payouts.
There are also settings available to set a payout threshold, and the amount of days an order should stay 'completed' for, before commission is earned.
In a future update, there are plans to also implement one-click payouts via PayPal, to make commission payments much easier for you.
---
Referral URLs
You can now enable an option to allow affiliates to find a referral URL in their coupon affiliate dashboard, which automatically applies the coupon at checkout.
They can also view total clicks, usage, and conversion rate for their referral URL in the dashboard.
---
Affiliate Email Notifications
New email notification feature has been added, to notify the affiliate whenever their affiliate coupon code is used on an order, earning them pending commission.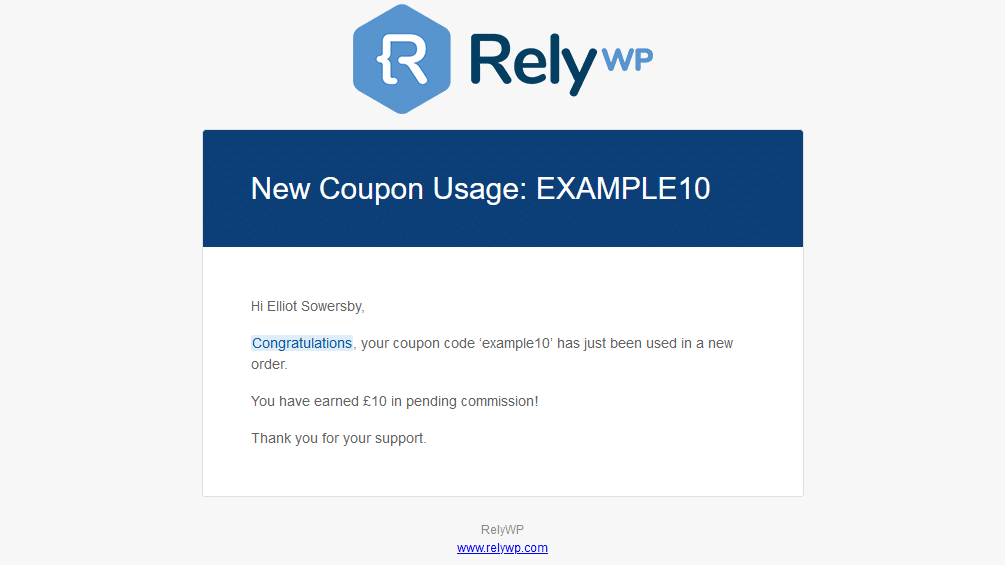 ---
Admin: Improved Dashboard URLs List
Some improvements have been made to the admin list of affiliate dashboard URL's section. This has now been moved to a dedicated section in the WP admin area, along with an improved layout, new sorting features, improved accuracy of search, and more.
---
Other
Added a setting to enable a button to export CSV file of 'recent orders' table.
Bug Fix: Fixed an issue with the affiliate commission row sometimes still showing even when it is disabled in settings.
Added 'How To Use & Help' section to admin settings area.
Made the 'table' layout for recent orders available in free version.
Share this post: