Version 5.4.0 of Coupon Affiliates for WooCommerce is now available.
This update includes some new features and improvements for the "creatives" module, along with a few other small tweaks and fixes.
---
New: Creatives – Types (Image, Video, PDF)
Brand new creatives types have been added.
Previously, you could only add images. Now you can now add all of the following types:
Images
YouTube Video
MP4 Video
PDF
Colors
---
New: Creatives – Categories
Custom "categories" have now been added to creatives.
Creatives will be sorted into their own categories when displayed on the affiliate dashboard, to make it more organised, and easier for users to find what they are looking for.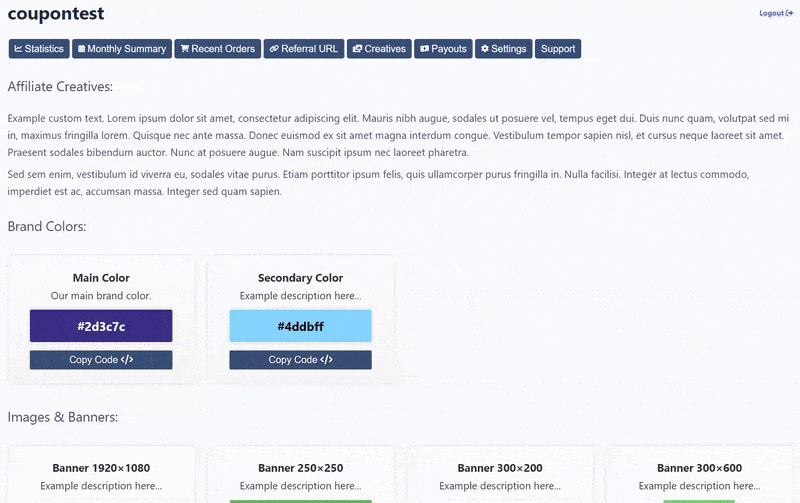 ---
New: Creatives – Brand Colors
"Brand Colors" is one of the new types of creatives that can be added. All colors will be displayed in their own category, and will display slightly differently to other creatives.
The color will be displayed in a box, along with the color code, and a button to copy the color code.
---
Creatives – Custom Text
The "Creatives Text" option has been updated to the "TinyMCE" editor, so you can add more advanced custom text to the top of the creatives tab.
---
Tweaks: Creatives
Tweak: (PRO) Added a light grid background to the creatives boxes on the affiliate dashboard, where there is any empty space.
The buttons on creatives tab now have the "pointer" cursor when hovered over.
Added more hooks to the "creatives" code, to allow developers to implement more advanced customizations.
---
Other Tweaks
(PRO) Scheduled payout requests will now use the websites default timezone instead of UTC.
(PRO) Changed the "Export to Excel" button text to just "Export", and added a download icon to the button.
(PRO) The "Add New" button for adding a campaign in the "Referral URL" tab will now display at the correct size on certain themes.
(PRO) In PDF statements, changed the month to short version (in details and table), and added suffix to the day number (st/nd).
The "Email address for receiving admin notifications" setting is now available in the free version.
Added a slight border radius to tabs and buttons on the affiliate dashboard.
(PRO) Updated stripe-php library to version 10.0.0.
Other: Updated to Freemius SDK 2.5.2
---
Bug Fixes
(PRO) Fixed issue causing some scheduled payout requests to not be submitted when they should.
Fix: (PRO) Fixed a few PHP warnings when viewing generated PDF statements.
Fixed affiliate registrations occassionally not being displayed on the admin registrations page, when the form is submitted.
Fixed issue with the affiliate dashboard for coupons not assigned to an affiliate user, sometimes being visible via the unique link for logged out users.
Share this post: