As an eCommerce business owner, your affiliate marketing program is probably one of your business's best strategic marketing techniques.
Therefore, you must invest heavily in your affiliates, which includes giving them access to content and materials that will make it easy for them to promote your products and services.
Here's how to make great affiliate creatives that your affiliates can use to get the job done faster and more efficiently.
1. Create Eye-Catching Banner Designs
Your affiliates may require banner designs to place on their websites in order to effectively promote and advertise your products and services to their audience. These banner designs can serve as a visual representation of your business and can help to bring you more potential customers.
To create banner designs that will effectively promote your products and services on your affiliates' websites, it is important to consider several factors. Using vibrant colors and high-quality images can help your banner stand out and catch the eye of potential customers. It is also important to ensure that the banner is clearly visible on all devices, including mobile phones and tablets. Additionally, it is crucial to carefully craft a message that is clear and compelling, and that resonates with your target audience. By considering these elements, you can create banner designs that effectively promote your business.
As a general guideline, you should aim for your banners to include the following:
A clear and compelling message that resonates with the target audience.
High-quality images that grab attention.
Vibrant colors that stand out.
Visibility on all devices, including mobile phones and tablets.
A call to action, such as "Buy Now" or "Sign Up".
Your brand's logo and messaging.
A design that matches your brands style, colours, and fonts.
It's also a good idea to test different banner designs to see which ones perform the best for your affiliates.
2. Design Relevant Landing Pages
When designing a landing page for your affiliates to link their creative banners to, always ensure that it is relevant to the products or services they are promoting. The landing page should also be easy to navigate and contain all the relevant information potential customers need to know about your product or service.
Here are some key considerations when designing a landing page for affiliates:
Relevance to promoted products/services
Easy navigation and relevant information
Clear, compelling headline
High-quality images/videos
Social proof (e.g. testimonials, trust badges)
Prominent call to action
Fast loading and mobile optimization
A/B testing
Incentives (e.g. discounts, free shipping)
Additionally, it can also be beneficial to implement functionality to automatically apply the affiliate's coupon code to the customer's cart, when the affiliate's custom landing page is visited.
3. Provide Quality Product Images
Your affiliates will need high-quality product images that they can use on their websites and social media platforms.
These images should be clear, high resolution, and in a variety of sizes and formats to meet the needs of your affiliates and appeal to potential customers.
4. Write Compelling Product Descriptions
In addition to quality images, your affiliates will need well-written product descriptions that they can use on their websites and social media platforms. The product description should be brief and to the point.
It should also be compelling and highlight the main features and benefits of the product. Your product description should be optimized for search engines using relevant keywords. You could work with experienced copywriters to help you write great product descriptions for your affiliates.
5. Provide Pre-Written Content
Sometimes, you need to provide your affiliates with pre-written content they can use on their websites. This is usually the case when you launch a new product or service and want to create a buzz around it.
Your content should be well-researched and relevant to the promoted product or service, and should be engaging and informative.
6. Create Effective Email Templates
Generally, you also want your affiliates to promote your products or services using email marketing. In this case, you need to provide them with great email templates that they can use.
The email template should be designed to be attention-grabbing and contain a CTA.
You can use services such as MailChimp to create great email templates for your affiliates. Revise your email templates regularly to ensure they are still effective and relevant.
7. Provide Pre-Made Videos
Visual marketing has been gaining a lot of traction in recent years. As such, you want to provide your affiliates with pre-made videos that they can use to promote your products or services.
The videos should be short, sweet, and to the point. In addition, they should be visually appealing and informative.
Some pre-made videos you can provide should cover topics such as product demonstrations and customer testimonials. Your affiliates should then be able to embed the videos on their websites and share them on social media.
8. Provide High-quality Brand Assets
Brand assets such as logos, product photos, fonts, colors, and guidelines for branding are essential for affiliates. This is because they help ensure that your affiliates represent your brand in the best possible light.
Ensure you provide your affiliates with high-quality brand assets to use on their websites and social media platforms.
9. Create Personalised Creatives Dynamically
Dynamically generating creatives allows you to tailor your creatives to each affiliate, making the promotion more relatable to their audience, helping increase engagement, and potentially leading to higher sales and commissions.
These images are automatically generated based on certain merge tags. For example, you can insert the affiliate's name, company name, affiliate coupon code, or even their referral QR code, directly into the image.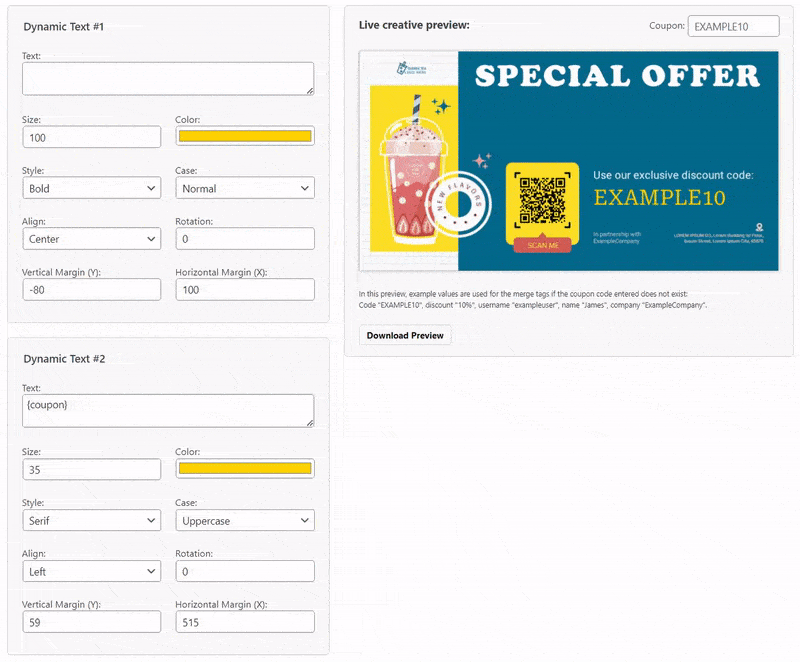 10. Creative Coupon Codes
You can personalize your affiliate experience by providing creative coupon codes to your affiliates, which they can then share with their followers and gain commission whenever it is used.
This is a great way to increase conversions and sales. Coupon codes can be in the form of a discount, free shipping, or a gift.
Coupon codes are very effective for affiliates and influencers who use social media platforms such as Instagram and Snapchat and can quickly share the code with their followers.
11. Public Relations Materials
Every customer need reassurance that they are making the right purchase decision. This is where public relations come in. You must provide your affiliates with PR materials such as press releases, case studies, and customer testimonials.
These materials help to build trust and confidence in your brand. They show that you are an authority in your industry.
12. Provide Easy Access to Creatives
Providing affiliates with a personalised affiliate dashboard where they can access all the creative resources they need to promote your products can be an important aspect of managing a successful affiliate program.
This section should include a variety of resources such as banner advertisements, PDFs, documents, brand colors, and more.
To make it easy for affiliates to find the resources they need, it is helpful to organize the section in a logical manner. For example, you could create separate categories/sections for different types of resources, such as banners, documents, and brand assets. Within each section, affiliates should be able to preview the resources, download them, and copy embed codes if applicable.
In addition to making it easy for affiliates to find and access the resources they need, it is also important to keep the section up to date with the latest resources. This could include new banner sizes and styles, updated PDFs and documents, and any changes to brand colors or guidelines.
Overall, providing affiliates with a dedicated section in the affiliate dashboard where they can access all the creative resources they need can help to streamline the process of promoting your products and make it easier for affiliates to be successful in their efforts.
Conclusion
As an eCommerce business, one of the best ways to increase traffic, sales and brand awareness is through affiliate programs.
However, your affiliates must be effective for you to stand a chance. By using the creative affiliates strategies discussed above, your affiliates will not only attract relevant traffic but will also enhance the reputation of your business in the online space.
Share this post: