Using affiliates as part of your marketing strategy can be a rewarding and complex experience.
For example, when they're recruited to help promote your business, affiliate marketers have the power to influence perceptions of your brand. In other words, they have power over your brand reputation.
Current estimates suggest that, by the end of 2022, the affiliate marketing industry will be worth over $12 billion. And with much of this multi-billion dollar industry driven by successful affiliate partnerships, it's important to manage any impact they could have on your brand.
In this article, we'll discuss the importance of brand reputation when working with affiliates. We'll highlight the pros and cons and explain what you can do to protect your brand when affiliates pick up any bad press or negative attention.
What Exactly is Brand Reputation?
"Character is like a tree and reputation is like its shadow. The shadow is what we think of it: the tree is the real thing." – Abraham Lincoln
Brand reputation is the public's perception of your company. In essence, it's how credible you are and how much consumers trust you. And they need to trust you to buy from you.
For example, the number of consumers who read online reviews of local businesses before approaching them increased from 60% to over 75% last year.
And sure, there are other elements to brand reputation. Perceived value, how satisfied other customers are with you, how you uphold company values and how different you are from competitors all count too. But the most important aspect is trust.
According to a 2021 report by Edelman, trust is the new equity for brands. And when over 63% of consumers believe they now have the power to force a brand to change, trust has become a palpable consumer force.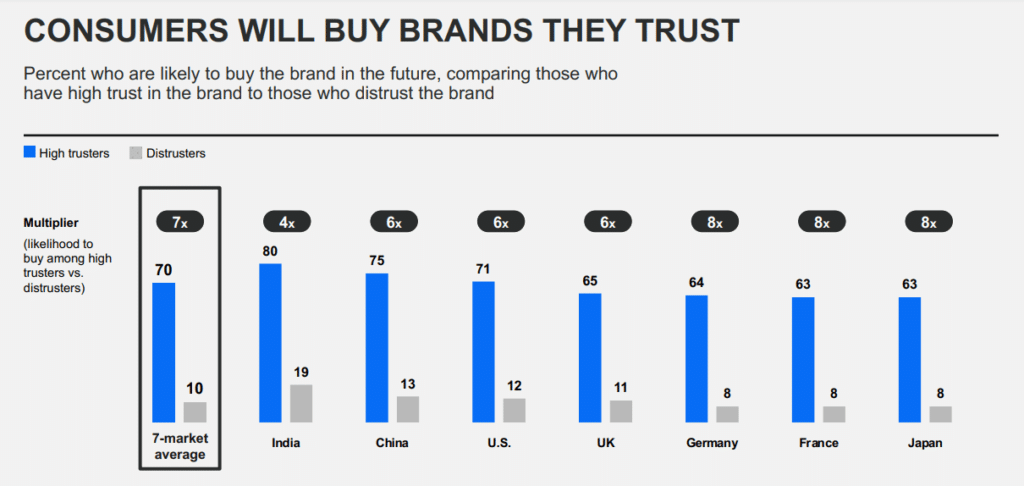 Why Is Brand Reputation Important?
Building consumer trust is a key component to maintaining a strong perception of your brand. But there are other great reasons why you should encourage affiliates to help maintain your reputation too:
Promotes consumer loyalty and growth
A positive and trusted online brand reputation can inspire customer loyalty. On the other hand, a negative brand image or a badly managed one risks losing new or existing customers.
Navigates the pitfalls of cancel culture
Consumers are a fickle bunch. And if your brand does something out of sync with their image of you, you'll need to work hard to win them back.
More than 50% of US consumers say they would cancel a brand if they discovered unethical management practices. But at least 25% said they could resist the temptation if they had a strong sense of loyalty to that brand.
Offers a competitive advantage
Showing the difference your business makes in the world or to society can make a huge difference to your reputation. And, when over 75% of UK consumers say they would spend more with ethical brands, having a reputation for doing good in the world will give you an edge over the competition.
How Affiliates Can Affect Your Brand Reputation
"Your brand is what other people say about you when you're not in the room". – Jeff Bezos
Having to manage the impact of cancel culture is something we could all do without. So be aware of the potential outcomes when affiliates use your brand:
Positives
Positive brand promotion through affiliate marketing can grow your brand awareness and increase your reach. And it's used by over 80% of marketers. 
Three-quarters of users say they trust social media to guide them with what to buy. Plus, almost 50% of users say they trust recommendations from social media influencers.
A great customer experience from an affiliate marketer can lift your brand and support positive online feedback, such as 5-star reviews.
Negatives
Pushy sales tactics at the hands of your affiliates could lead to a lowering of consumer opinion. For example, almost 40% of consumers say they lack trust in brands due to negative online activity.
Social media influencers working as affiliates can be cancelled overnight. For example, Shane Dawson lost 1.2 billion viewers to his YouTube channel after viewers exposed his questionable historic behaviour.
Tracking how an influencer or affiliate uses your brand can be difficult. But with the right platform to support you, this can be overcome.
What You Can Do to Protect Your Brand When an Affiliate Becomes Unpopular or Gets Cancelled
"It takes 20 years to build a reputation and five minutes to ruin it. If you think about that, you'll do things differently". – Warren Buffet
If you do face a situation of cancel culture at the hands of an affiliate, it's best not to overreact. Over 80% of consumers say they're likely to forgive a company for a misstep if it's their first time doing so.
And affiliates are only human, right?
But there are some ways to minimise any reputational damage and mitigate future problems:
Take a proactive approach: Prevention is always better than cure, so make sure to brief your affiliates on your expectations.
Respond fast: Don't wait for the smoke to blow over – take action straight away. Your followers and customers will make quick decisions about your brand, so make sure to react before they do.
Use empathy to disengage: If you decide not to work with an affiliate due to bad publicity, make sure to show empathy when you part ways.
Consider another affiliate: If you do stop working with an affiliate due to reputational risk, it could disappoint your shoppers. But if you present the situation in the right way, it could open the door to new affiliate partnerships that may delight your customers too.
Keep Your Brand Reputation Safe by Building Trust and Authenticity
Gaining an impressive reputation usually comes from taking a proactive, rather than a reactive, approach. Here are some steps to take to get on the right footing:
Treat your brand like a personality: Be clear on your values and the difference you're making in the world.
Choose well: Carry out research and due diligence before you partner with any affiliates.
Build strong relationships: Establish trust, respect, clear boundaries and great communication.
Test out strategies: Reserve a budget to test out different campaigns and check your affiliates are 'on brand' with messaging.
Treat affiliates well: Show your affiliates you care about the impact they have. You can do this by setting generous payout terms and giving them customised dashboards and banner materials.
Collect feedback: Conduct surveys with customers to understand their experience of your affiliates.
Be consistent: Don't flounder or renege on your values, objectives and goals. If everyone knows which page they should be on, they'll be more likely to stay on it.
Our affiliate dashboards offer a set of effective tools to support you in taking a proactive approach to managing affiliates. Start today with your free 7-day trial.
Share this post: