Explainer video and tutorial:
---
With the Multi-Level Affiliates module, your existing affiliates can invite new users to register as an affiliate on your website. As the parent affiliate, they will then earn a percentage of extra commission for all sales that their sub-affiliates refer to you.
Quicklinks: Getting Started / MLA Dashboard / MLA Settings & Tiers
---
Getting Started
To get started with multi-level affiliates, you will first need to enable the "Multi-Level Affiliates" module in the plugin settings. A new tab will appear to customise the MLA module settings.
Next, you will need to create the MLA dashboard, add this shortcode to a new page: [couponaffiliates-mla]
Once that's done, your existing affiliates can view this page to access the MLA dashboard.
---
MLA Dashboard
On the Multi-Level Affiliate Dashboard (MLA Dashboard) your parent affiliates will be able to:
View all their sub-affiliate's coupons, with a link to visit the affiliate dashboard for them.
View a tree diagram of their full network.
View all the orders referred by their sub-affiliates, and see how much commission they earned.
Enter an email address to easily invite someone to their network, or they can share their unique referral link with someone directly.
Manage and request payouts for the commission that they have earned from their sub-affiliate referrals.
Here is an example of the MLA dashboard:
---
MLA Settings & Tiers
There are several settings available to customise the MLA functionality to your requirements.
However, the main options you will want to customise are the "Multi-Level Affiliate Tiers". You can have an unlimited number of tiers, and set the commission percentages for each.
These percentages define how much commission the parent affiliate will earn from all of their sub-affiliates, depending on the affiliates tier in their network.
The commission for multi-level tiers is calculated based on a percentage of the amount earned by the main affiliate. This is NOT deducted from the main affiliates' earnings.
So for example, after the commission calculations, if the main affiliate earns $20 commission for an order, and you set "tier 1" to 20%, then the tier 1 parent will receive $4 commission, and the main affiliate still earns $20. So in total it would be $24 commission paid.
(New) To offer more flexibility in MLA commission structures, you can now also give a fixed commission to MLA parents for sub-affiliate referrals. This can be added in combination with the percentage amount, for example you could set tier 1 to earn "20% + $5" per sub-affiliate referral, or set it just a fixed amount.
Here is an example of the settings: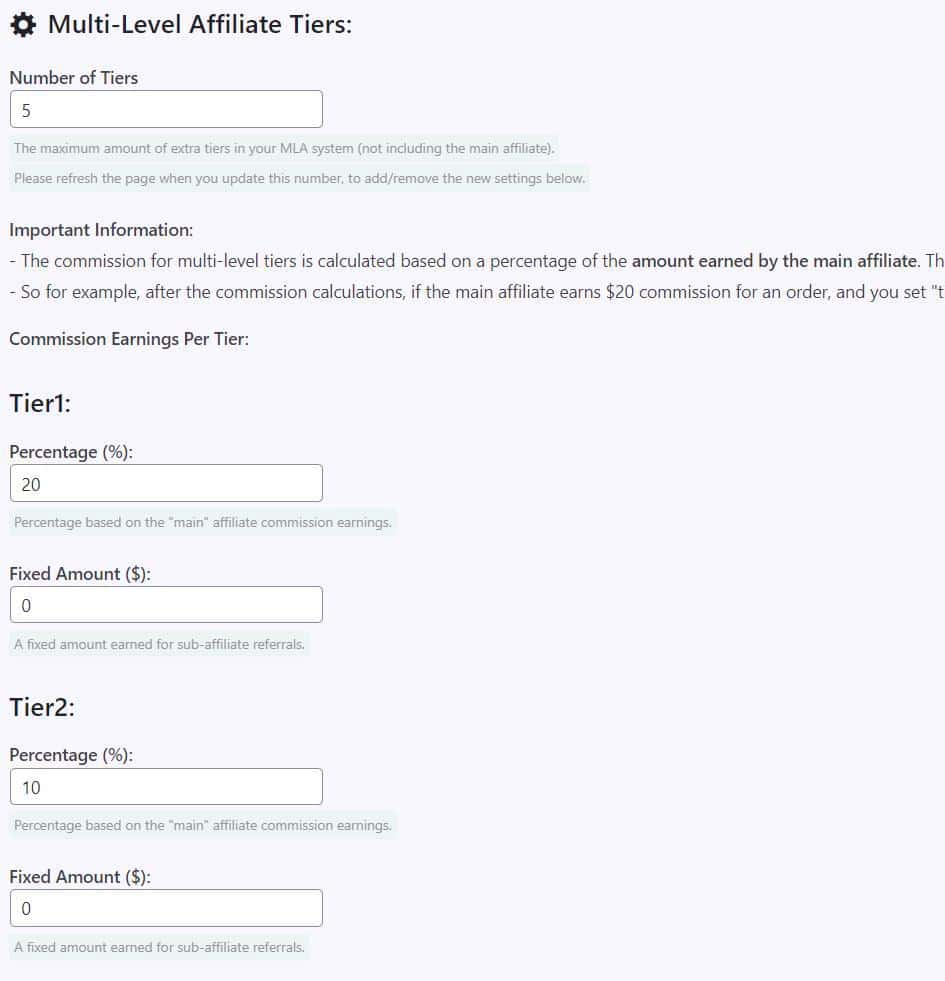 Here's an example of how the network tiers would work:
We'll assume a base commission rate of 25% for the main affiliate, with the multi-level tier rates set to set to 20% for tier 1, and 10% for tier 2.
Firstly, John invites Fred to become an affiliate.
Fred is now a tier 1 affiliate in John's network.
Fred then invites Sally and Tom to become an affiliate.
Sally and Tom are now a tier 1 affiliate in Fred's network, and a tier 2 affiliate in John's network.
Sally refers a new sale at $200 and gets 25% commission, which is: $50.00
Fred's earnings are based on 20% of Sally's commission, which is: $10.00
John's earnings are based on 10% of Sally's commission, which is: $5.00
Therefore, the total commission paid out for this sale is $65.00
---
Note: The term "Multi-Level Affiliates Marketing" is sometimes referred to as MLA, MLM or MLAM.
---