Anyone who has researched AffiliateWP knows that it's a solid, but somewhat expensive, affiliate solution for WordPress websites.
But is it worth the cost if you're running a WooCommerce site? Or are the specific plugins that target WooCommerce a better deal?
When looking at AffiliateWP alternatives, we can find the answer to one of these questions by comparing Coupon Affiliates to AffiliateWP.
The Coupon Affiliates plugin is less expensive, but it's also quite WooCommerce-specific. The question is, how do the features stack up to what AffiliateWP has to offer?
The Relative Cost of AffiliateWP vs Coupon Affiliates
How much money do you save by going with a WooCommerce-specific affiliate plugin, over the more general AffiliateWP solution?
AffiliateWP Plans:
Coupon Affiliates Plans:
Coupon Affiliates is between 60% and 76% cheaper than AffiliateWP, depending on how long you stay subscribed.
1 year: Coupon Affiliates is $119.88, compared to $299.50 for AffiliateWP – a 60% saving.
2 years: Coupon Affiliates is $239.76, compared to $898.50 for AffiliateWP – a 73% saving.
3 years: Coupon Affiliates is $359.64, compared to $1497.50 for AffiliateWP – a 76% saving.
These comparisons are for the most feature rich versions of both packages. But what exactly does that mean?
A Feature Comparison of AffiliateWP vs Coupon Affiliates
There's a complete comparison table here for AffiliateWP and Coupon Affiliates, but there are a few key features that are more important than the others, at least on WooCommerce affiliate sites. Let's have a look at those critical features.
Reporting & Analytics
When it comes to affiliate reporting and analytics, both platforms offer some powerful reporting tools for affiliates and admins.
On the affiliate dashboard for both AffiliateWP and Coupon Affiliates, you can view a detailed log of recent referrals, and total commission earned.
The Coupon Affiliates plugin also includes in-depth commission summary for each referral, that breaks down the amount of commission earned for each individual product in that order, along with date filtering, and an option to export to CSV.
A monthly summary table is also available with Coupon Affiliates showing the total sales and commission earned each month. It also includes an email reporting feature, which allows you to automatically send detailed email reports to your affiliates each month detailing their affiliate analytics performance.
Affiliate Registrations
AffiliateWP and Coupon Affiliates both have some great features when it comes to affiliate management and registrations. It's safe to say both plugins are fairly equal here.
For example, it is possible to build custom affiliate registration forms with both plugins. You can add custom fields to your forms to collect specific information, and manually approve your affiliates upon submission.
Once registrations are accepted, both plugins will automatically create the affiliate user, send them email notifications, and give them access to their affiliate dashboard.
Finally, they both support the automatic creation of coupon codes when the registration is accepted, along with dynamic coupon generation, to generate a unique code for affiliates automatically based on certain "merge tags" such as their name and discount.
Commission Payouts
Both plugins offer some useful payouts management features, including accurate commission calculations, along with one-click PayPal and Store Credit payout options.
However, AffiliateWP doesn't have one-click Stripe payouts, or the option to enable scheduled and fully automated payouts, which are included in Coupon Affiliates.
AffiliateWP on the other hand does offer its own "payouts service" which is a service provided by themselves, meaning you don't have to connect a 3rd-party payouts service such as PayPal or Stripe, but this does result in extra fees. AffiliateWP charges a 3% service fee for this, alongside the merchants processing fees which are around 2.9% + 30¢, and a transfer fee of at-least 2% for payouts outside the US, meaning your total fees will be 5.9% + 30¢ in the US and at-least 7.9% + 30¢ outside the US.
In comparison to this, your fees will only be around 2.9% + 30¢ in total if using Stripe payouts.
Coupon Affiliates does not charge any additional fees for payouts. The only processing fees you will pay are those charged by the payment merchant such as Stripe or PayPal.
Anti-Fraud
Important anti-fraud tools are available in both plugins, including refund protection, theft prevention, blacklists, and first-party cookie tracking. So if security and privacy is your concern, both plugins have got you covered.
Referral URLs
Once again, both plugins include some fantastic features for creating personalised referral URLs for your affiliates.
For example, it is possible to allow affiliates to build their own referral URLs for custom pages, track specific campaigns, easily share their links on social media in one-click, and generate QR codes.
AffiliateWP does not include a short URL generator, or the option to automatically apply coupon codes via the referral URLs, which are features included in Coupon Affiliates.
Creatives
A variety of features are available in both plugins to help you effectively manage creatives, and allow affiliates to easily download them on their dashboard.
However one feature that is unique to Coupon Affiliates is Dynamic creatives.
The dynamic creatives feature automatically generates unique images and banners based on the affiliate's identity, for example adding their coupon code or discount. There's no extra effort on your part to make use of this, simply design your banners and follow the instructions to build your dynamic creative templates. AffiliateWP doesn't currently have any equivalent feature to this.
Tiered Affiliate Rates
On the other hand, AffiliateWP does have an advantage on Tiered Affiliate Rates.
Coupon Affiliates doesn't currently support tiered affiliate rates, while with AffiliateWP you can change the percentage payout automatically based on an affiliate's performance.
For example, you can set high-performing affiliates to receive higher commission rates. This is however a feature that Coupon Affiliates is currently working on.
Multi-Currency
On the multi-currency side, Coupon Affiliates has full multi-currency support built in, while AffiliateWP does not, instead requiring additional 3rd-party addons.
Additionally, with Coupon Affiliates it is possible to fully automate the conversion rates using the "Exchangerates API" to always keep them up to date.
Coupon Affiliates Multi-Currency: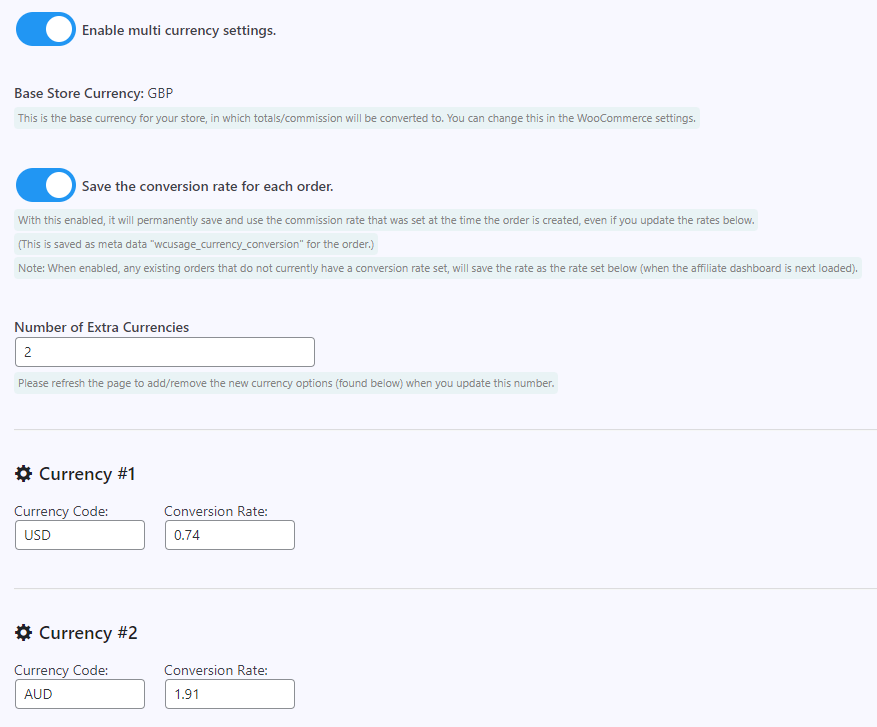 Multi-Level Affiliates System
If you require multi-level affiliates functionality, this is not included in the AffiliateWP plugin.
However, the Coupon Affiliates plugin includes everything you need to build a powerful multi-level affiliate system, by simply enabling the MLA module in the plugin settings.
Your existing affiliates can invite new users to register as an affiliate on your website. As the parent affiliate, they will then earn a percentage of extra commission for all sales that their sub-affiliates refer to your store.
This also comes with its own unique MLA dashboard where they can view all their sub-affiliates coupons, a tree diagram of their network, their sub-affiliates orders/referrals, an invitation system, and more.
Coupon Affiliates MLA System:
It is worth noting that AffiliateWP does have some 3rd-party addons available at an additional cost, that offer Multi-Level functionality.
Push Notifications
When it comes to push notifications, AffiliateWP offers a "Pushover Notifications" add-on, in which you can give your affiliates the option to connect their phone or tablet via Pushover to your affiliate system, and they will receive push notifications anytime they earn a new referral. Currently this functionality is not available in Coupon Affiliates.
Free Trial & Refunds
Another important difference between the two plugins is the availability of a trial. AffiliateWP has no trial version available, whilst Coupon Affiliates does have a free 7 trial available to all new customers.
Each of the plugins also offers a 14 day money back guarantee on purchase or renewal.
Generalist Vs Specialist Affiliate Plugins
There's a very real tradeoff when you try to be a generalist, rather than a specialist.
AffiliateWP is a generalist. It covers more than just WooCommerce, working on WPForms, GiveWP, Contact Forms, Easy Digital Downloads, WP Simple Pay, and several other WordPress plugins. The main benefit of this is that you can integrate with multiple different platforms at once, for example tracking referrals for your eCommerce checkout and contact forms at the same time.
Coupon Affiliates is a specialist. It hyper-focuses on WooCommerce sites, and therefore can often mean it's faster and easier to develop more in-depth features. The developers don't have to worry about making a new feature compatible across a dozen types of eCommerce plugins and stores. That makes testing and bug hunting easier as well.
Of course, if you move away from WooCommerce some time in the future, they'll need to find a new affiliate management plugin if they're using Coupon Affiliates. Depending on the store solution they pick, that might also be the case with AffiliateWP. But if they move onto another platform that AffiliateWP covers, it might be a fairly simple migration.
In short: Coupon Affiliates racks up a lot of features that cover a single platform, while AffiliateWP has slightly less in-depth features, but they work across many platforms.
Does That Mean You Should Pick Coupon Affiliates Over AffiliateWP on a WooCommerce Site?
Picking the specialist over the generalist makes more sense in most cases, assuming the specialist has a good track record, and you don't have any plans in the near future to switch eCommerce platforms.
Coupon Affiliates has a rating of 4.9 out of 5 stars on WordPress.org with over 3,500 active installations. In the two months prior to September of 2023, there were 37 support tickets open, and all 37 of them have already been resolved. With that level of support reliability and trust, it's hard to go wrong.
It should be noted that AffiliateWP is also a fine product. Awesome Motive, the company behind AffiliateWP, has made a product that tens of thousands of people use and are clearly quite happy with. But AffiliateWP does go down the general route, which puts it at a slight disadvantage with it being built for a large audience, rather than specifically for WooCommerce sites.
It may still be better to run AffiliateWP over Coupon Affiliates on WooCommerce if you are considering switching eCommerce platforms in the near future, need to allow referral tracking for other conversion sources such as contact forms, or is you're looking to use a tiered affiliate rates model, where your base payout percentages go up or down based on volume.
However, this would then give up the higher level of automation and customization that Coupon Affiliates has to offer. The performance bonuses feature is already in the works, so it may be worthwhile to implement the core Coupon Affiliates platform and just wait for the "tiered affiliate rate" support to be implemented soon.
In Conclusion
As far as AffiliateWP alternatives go, you can't get much better than Coupon Affiliates for a WooCommerce installation. Because it's specialized software for the platform, it has superior pricing and more in-depth features. Check out the plugins features page for more details on the current feature set.
If you're looking for an AffiliateWP alternative for a non-WooCommerce site, Post Affiliate Pro or SliceWP are some good all-round popular options.
This AffiliateWP comparison article was last updated on 22nd September 2023.
Share this post: