If you are looking to take your affiliate program to the next level, automating it is the way to go.
By automating your affiliate program, you will be able to save time whilst still offering your affiliates the tools they need to succeed.
In this article, we will show you how to automate your WooCommerce affiliate program using a few simple steps.
1. Install the Coupon Affiliates Plugin
To get started, you'll first need to purchase the PRO version of the Coupon Affiliates plugin from our website, or you can download the free version via the official WordPress.org plugin directory.
You will then want to upload the plugin to your WordPress website, by hovering over the Plugins button in the left-hand sidebar and select "Add New".
At the top of the page, you'll see an "Upload Plugin" button. Select this option to upload the plugin to your website. After it's installed, click "Activate", then you will be directed to the setup wizard.
2. Choose your Commission Structure
One thing to consider when creating your affiliate program is your affiliate commission structure.
This is the amount of commission that will be automatically calculated and earned by the affiliate whenever they refer a new customer or sale to you.
With the Coupon Affiliates plugin, there are a few different commission structures that you can choose from within the plugin's settings:
Percentage Based: Pays out a percentage of the total order value to the affiliate.
Fixed Amount Per Order: Pays out a fixed amount for each order that is placed.
Fixed Amount Per Product: Pay out a fixed amount for each product that is sold.
You can also set a combination of each of these, to create more flexible commission amounts. If needed you can also set custom commission amounts for individual affiliates and products.
3. Customise your Email Notifications
The next step is to customise the email notifications that are automatically sent to your affiliates.
There are a few reasons why you might want to make your email notifications more personalised:
You are showing that you care about the recipient and want to make sure they have all the information they need.
You are helping to build a relationship with the recipient. They will appreciate the extra effort and be more likely to remember you in the future.
They are more likely to read it and act on it. This is especially important if you are sending time-sensitive information.
In the Coupon Affiliates dashboard, you can edit your email notification settings to make them more personalised with your branding and information about your affiliate program.
In settings page, click on the "Emails" tab, and you'll see a variety of email templates and settings that you can customise.
4. Automate Your Affiliate Newsletter
When running your affiliate program, it's important to make sure that your affiliates are kept up-to-date on the latest news, changes, and updates to your program. The best way to do this is to create an automated email newsletter.
An automated affiliate newsletter process can save you a lot of time and effort. Instead of manually sending out welcome emails to each new affiliate, you can use an automated system that will send them out for you over a period of a few days or weeks. This can free up a lot of your time to focus on other aspects of your business.
You can do this by creating a welcome automation series, which is sent to all new affiliates automatically. You should first welcome your subscribers to the affiliate program. Then, over the next few days, gradually send them tips and information to help them get started.
5. Automate Registration System & Approvals
Making your affiliate registration process as efficient as possible will help you save time, and make the whole onboarding process a lot easier for your affiliates.
With Coupon Affiliates PRO, firstly all you need to do is add the registration shortcode to a page, and then a form will be displayed to allow users to register as a new affiliate.
When a user submits the affiliate registration form, usually you will need to manually review and approve the registration, before they can access their affiliate dashboard and start referring new customers.
However, manually approving your affiliate registrations may take up quite a bit of time, so you may be considering automating that process. Although if you do, you should certainly keep a close eye on it and look out for any users that seem suspicious.
With Coupon Affiliates, there is an option available in the "Registrations" settings tab, that will make it so that all new affiliate registrations are automatically accepted.
Additionally, with the Coupon Affiliates plugin, you will be required to create a "template coupon" code. Whenever an affiliate registration is accepted, this template coupon will be used to generate a brand new coupon for the affiliate, copying over all the same settings, and automatically assigning them to it.
6. Automate Your Payouts System
An automated commission payout system can save you a lot of time and hassle, and it can also help to ensure that your affiliates are always paid on time.
Automated Payout Requests
With Coupon Affiliates, when your affiliates refer new customers, and orders are marked as completed, their "unpaid commission" balance is increased. They will then have the option to request a payout for their total unpaid commission in their affiliate dashboard.
There is an option available to automatically schedule payout requests, daily, weekly or monthly. This is great if you want to pay affiliates on a certain day, or make sure affiliates don't have to manually request payouts for their commission.
Automated Payments
In order to process payments automatically in one click, you will need to connect and integrate PayPal or Stripe with your affiliate system, or use the built-in store credit option.
Once you've setup your payout methods, whenever a payout request is made, you will be alerted and need to approve the payout. Simply click the pay button, and funds will be transferred to their account automatically.
You can also take things one step further, and fully automate your payouts, by enabling the "automatic payouts" setting. With this enabled, whenever a payout request is made, the system will automatically attempt to complete the payout via the selected payout method, as long as funds are available, and it meets the other required criteria.
A fully automated payout system will save you time and ensure affiliates are paid efficiently, however you should make sure you are keeping an eye on things and make sure nothing looks suspicious.
7. Automate Affiliate Tools & Resources
Automating the process of giving your affiliates access to all the tools and resources they need can make the whole onboarding process much easier for your affiliates. Your system should ideally do all of the following:
Send emails automatically to affiliates when they signup, or earn new commission, with all the information they need to know about the affiliate program, and a link to their affiliate dashboard.
Automatically give access to their own affiliate dashboard, which keeps track of referrals, and commission earned.
Automatically give access to marketing resources (creatives) such as banners, and brand assets.
Allow them to manage payouts, affiliate URLs, and general account settings by themself without needing any assistance.
8. Automate Personalised Creatives
Make use of dynamic creatives functionality to automatically generate personalised creatives for each of your affiliates.
By using merge tags, you can tailor the creatives to each affiliate, making the promotion more relatable to their audience, helping increase engagement, and potentially leading to higher sales and commissions.
For example, you can insert the affiliate's name, company name, affiliate coupon code, or even their referral QR code, directly into the image.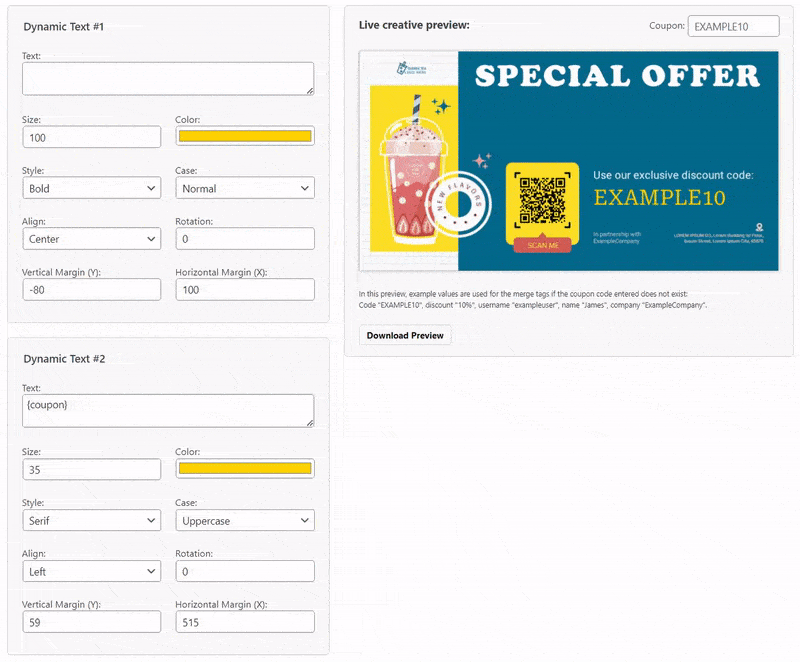 9. Automate Affiliate URL Generation
On your affiliate dashboard, you should give affiliates the opportunity to easily generate their referral URLs automatically.
Allow them to choose the landing page for their URL, and track statistics for things like clicks and conversions.
Taking things one step further, you can also offer them the opportunity to create different referral campaigns, along with short URLs, QR codes, and buttons to easily share their generated link on social media.
Conclusion
If you automate your affiliate program, you can save time and money while still providing your affiliates with the tools they need to succeed. You will also be able to improve your affiliate marketing program as a whole by using an affiliate plugin that takes care of all of this for you!
Coupon Affiliates is a WordPress plugin that allows you to create a full-featured affiliates system for your WooCommerce store. Try PRO today with a free 7 day trial.
If you have any questions or feedback, please feel free to reach out to us.
Share this post: