Influencer marketing is a very popular way to drive affiliate marketing sales.
For example, more than 90% of marketers say they now use influencer marketing as a major part of their strategy.
And while big names like Ariana Grande, Christiano Ronaldo and Joe Wicks remain out of reach for many companies, other social media influencers could help.
So what is influencer marketing? And how could you create a plan to drive this forward as part of your affiliate marketing campaign? In this blog post, we'll help you answer these questions and more.
Benefits of using Influencer Marketing in your Affiliate Marketing Campaigns
Including influencer marketing in your affiliate marketing campaigns can make a huge difference:
Greater Reach
Companies that use affiliate marketing campaigns are more likely to reach the right audiences for their brand using influencers. And when they do, sales can take off.
For instance, Twitter revealed that exposure to both brand and influencer tweets can lead to a five-fold increase in buyer intent.
Social Proof
Influencers gain popularity when their audiences trust them. And this trust can manifest into sales, since two-thirds of consumers say they bought something after seeing it on Twitter, YouTube or Instagram.
Authentic Promotion
When companies engage with influencers, they gain access to high-quality blog articles, podcasts, videos and social media posts. But the real benefit of influencer content comes from authentic promotion. Because UGC, or user-generated content, has the power to influence up to 90% of shoppers.
Simple Management
Influencer marketing campaigns may appear to involve more work, resources and effort. But with the right management platform, running successful influencer marketing campaigns becomes far easier. For example, Coupon Affiliates lets you create custom-made affiliate landing pages for any influencers you choose to work with.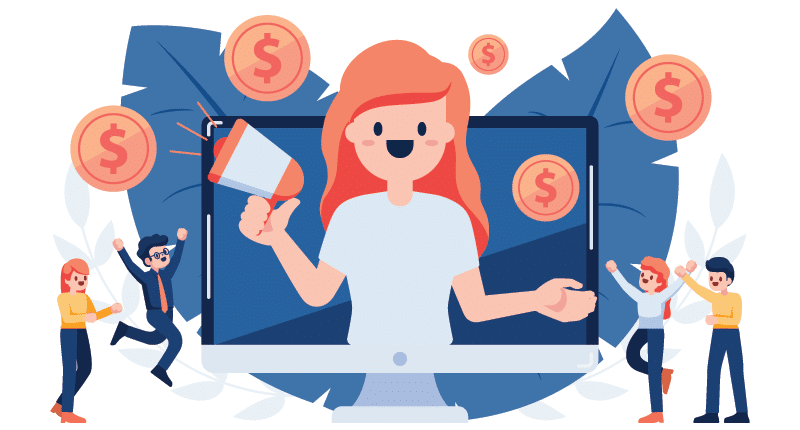 What is influencer marketing?
The essence of influencer marketing lies in public endorsements from famous or well-known individuals. But rather than mere celebrity endorsements, influencer marketing blends content-driven marketing with an influencer's desire to drive commission-based sales.
Influencers are different to celebrities, but can also include them. Influencers usually hold enough power to affect the buying decisions of viewers or readers, due to their knowledge or authority over a chosen topic or niche. Of course, influencers must have an avid social media following and be able to promote a product or service.
Be warned, though. Fraudsters are prevalent in the world of influencer marketing, and many fake influencer accounts exist. These fake influencers also have fake followers. So if you do fall prey to any, it could put you out of pocket by some margin. In one case, a company lost over $500,000 on fake impressions that reached no genuine followers.
So, make sure you carry out the right checks before engaging with any online influencer.
Types of Influencer Marketing
Before you approach influencers, it's worth noting the categories they fall into:
Nano-Influencers: These are often newbies. They may be starting out in a niche area. No. of followers: 0-10,000
Micro-Influencers: Micro-influencers usually have a close relationship with their audiences. They cover a wide range of topics but often have higher engagement and conversion rates. No. of followers: >10,000
Macro-Influencers: These types have larger and more diverse audiences with well-established positions with a community. No. of followers: >500,000
Mega-Influencers/Key Opinion Leaders: These are the big-league celebrity players, with huge followings and higher rates. No. of followers: >1,000,000
How to use influencer marketing in your affiliate marketing campaigns
1. Make a plan
Start by defining your goals, for example, what's your overarching aim? What are your weekly or monthly forecasts? What sort of activity will you run?
Set SMART goals and targets. Then, get clear on the amount of investment you could make and draw up a budget. This should include a sizeable amount to offer your influencers. After all, they'll be looking for attractive commission rates, should they want to get involved with your campaign.
Then, once you've completed your budget, outline the activity you'll engage with. And by mapping out the milestones of your campaign, you'll make it easier for both you and your influencer to achieve goals.
2. Choose the right influencers
Choosing the right influencers is likely to be the most important decision of your influencer marketing campaign. So, when selecting who to approach, you should be asking yourself:
Are they relevant? Check their audience demographics, style and approach.
Do they have enough followers? Decide where they sit on the list of influencer types.
What's their engagement rate? Check the number of followers they have.
Domain rating? Check if their reputation is compatible with your brand.
Who do they promote already? Carry out some due diligence to ensure they're not working with any competitors.
Can you afford them? Try to offer a decent package with attractive commission rates.
3. Choose a platform
There are pros and cons to each platform, so it's important to consider which one fits your brand best.
Instagram, for example, has around 1 billion current users.
And while it's one of the best platforms for influencer marketing, it's also a busy and very competitive marketplace.
Consider demographics when choosing the right platform. TikTok is popular amongst Gen Z and Millennials, while YouTube could be a great place to attract the interest of Gen X.
4. Find a sweet spot for activity
The best way to engage with influencer marketing is to find the right balance between you and your influencer. For instance, overpromotion may lead to higher sales but can risk reputational damage. Plug your brand too much and audience ratings could start to drop.
Try to strive for high engagement with each influencer promotion. And, by giving your influencer access to your pre-made resources like banners, graphics or videos, they'll stay motivated to help you. The most successful campaigns provide influencers with the resources they need while putting the right level of focus behind each affiliate marketing campaign.
5. Use metrics to track performance
Like all good marketing campaigns, measuring performance is a key way to ensure your efforts are successful.
Make sure to give your influencer access to transparent tracking. This is made simple by using an affiliate dashboard.
Your affiliate dashboard should give influencers all the analytics and tools they need to keep track of their performance. This includes:
Sales & Commission: Transparent statistics on all sales they have referred, and commission earned for each one.
Traffic & Conversions: Access to referral links, coupon codes, direct link tracking, and custom landing pages, with real-time tracking of all clicks and conversions.
Campaigns: Referral campaigns will allow them to keep track of performance for their individual campaigns, and see where they are generating the most conversions.
Make sure to keep track of all your affiliates and their individual statistics by generating detailed affiliate reports. This way you can see how well they are doing, and which influencers are bringing in the most traffic and sales.
Coupon Affiliates can help you Drive More Engagement Through Influencer Marketing
Influencer marketing can uplift sales and improve your affiliate marketing campaigns. So, whether you plan to use an influencer as an affiliate, or to support your own affiliate campaigns, consider that influencer marketing can encourage as much as 60% of your audience to buy.
Coupon Affiliates offers an effective management platform to help you succeed with any influencer marketing campaign for your WooCommerce website. Our helpful dashboard is designed to assist affiliates, such as influencers, with generating additional sales and tracking growth.
To find out more about how Coupon Affiliates can support your next influencer marketing campaign, start your free 7-day trial today.
Share this post: