Link a landing page to an affiliate coupon. This page will then work the same was as a referral URL. If someone visits the landing page, it will create the referral cookie and automatically add the coupon when the user adds items to cart.
With this feature enabled, a new "landing" pages metabox will be displayed on pages: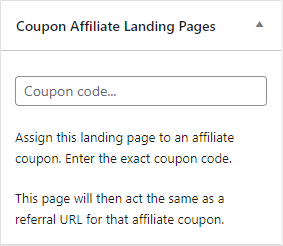 Simply enter the coupon code here, then this landing page will be linked to that affiliate coupon.
Your affiliates will then see a new section on their affiliate dashboard, in the "Referral URL" tab, with details of their landing page, including the referral URL and ability to share on socials, generate a QR code, etc.

How to enable:
To get started, you first need to enable "Affiliate Landing Pages" in the "Pro Addons" section. Then you'll be able to link landing pages to affiliate coupons.