A creatives section can be displayed on the coupon affiliate dashboard, to give the affiliate access to a variety of banners and images, which they can use to help with their marketing.
Each individual creative has 3 buttons:
Preview: Opens a lightbox with a full size preview of the image.
Download: This will allow the affiliate to download the media file.
Copy Code: This will copy a HTML code to the users clipboard, which they can paste on their own website (or elsewhere).
Additionally, "Page URL" and "Campaign" options are displayed at the top of the page, which when changed will automatically update the "code" when copied with the new URL, or with the campaign tracking parameter.
Example: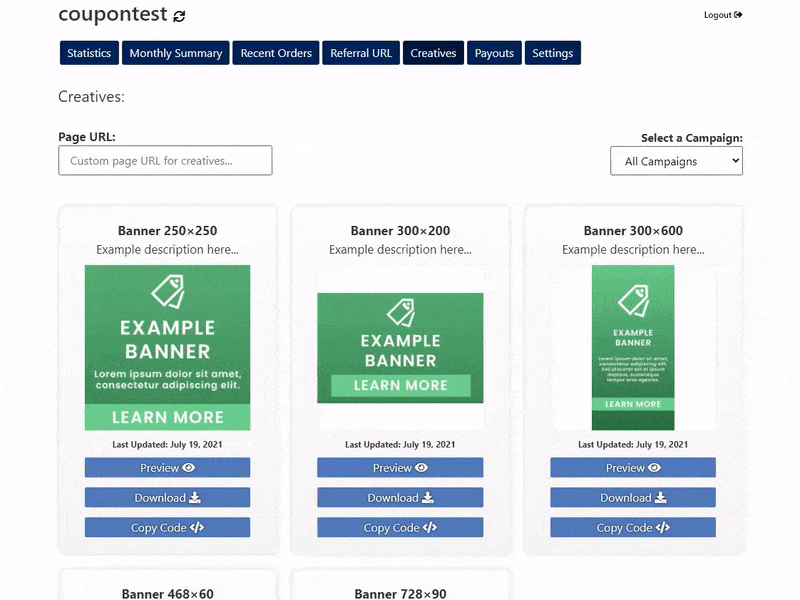 Admin:
As an admin, you can easily manage, add, and edit your creatives.
Simply go to the new "Creatives" sub-menu under "Coupon Affiliates" and you can see a list of your published creatives.
You can then add a new creative by clicking "Add New". Then simply fill out the details, and upload your image.
The creatives tab is also fully customisable. You can choose how many to show per row, and show/hide each specific part of the creative based on your own preferences.
If "Creatives" is disabled, you can enable it in the "PRO Modules" section to get started.